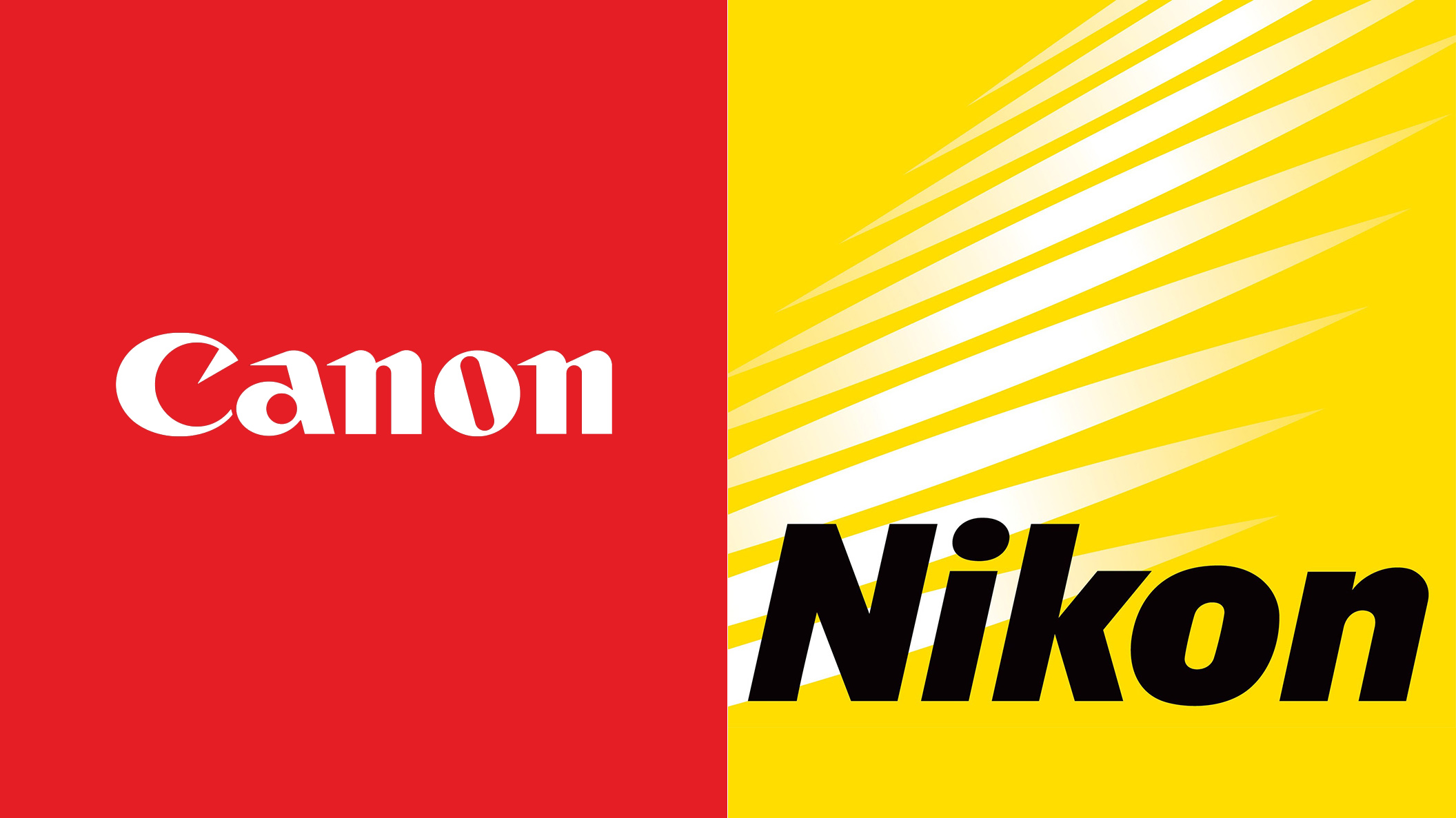 The most common question people ask when buying their first DSLR is whether to side with Canon or Nikon. Indeed, even more experienced photographers tied to one system often think about what they would gain by switching sides. 
The fact is that both companies make excellent DSLRs. Nevertheless, at any given point they each have slightly different offerings on the market, and so it follows that some models will be better suited to your specific needs than others. 
To that end, we've rounded up the main DSLRs currently available from the two (bar the most senior models designed for professionals) and compared them with their rivals in the same price bracket.
With both Canon and Nikon now both offering a range of mirrorless cameras as well, we'll also take a look at both systems. 
Whether you're a photographic novice looking for your first camera, an enthusiast keen on exploring a range of options or a more advanced user looking for a full-frame powerhouse, read on to get the best idea of what your money gets you. 
Canon vs Nikon: Entry-level DSLRs
If you've got up to £500/$500 or so to spend on your first DSLR, you're very much spoilt for choice. Not only do you have a raft of brand new models to consider, but there are also many older ones that manufacturers typically subject to discounts and cashback offers to hook you into their system.
Currently, the cheapest options are the Canon EOS 1300D (known as the EOS Rebel T6 in the US), Canon EOS 4000D (known as the EOS Rebel T100 in the US), Canon EOS 2000D (known as the EOS Rebel T7 in the US) and Canon EOS 200D (known as the EOS Rebel SL2 in the US), as well as the Nikon D3400 and the newer Nikon D3500. 
What's the difference then? At the bottom end of the scale is the EOS 1300D / EOS Rebel T6, which features a 18MP sensor and can shoot at only 3fps, while there's a 9-point AF system featured. Then there's the EOS 4000D – similar in spec to the EOS 1300D / EOS Rebel T6, but the newer camera isn't worth the extra cash as it features a plastic lens mount and pretty horrible 2.7-inch display and is best avoided.  
The new EOS 2000D / EOS Rebel T7 is the next step up and is worth the extra money thanks to the jump in resolution, from 18MP to 24.1MP. The EOS 200D / EOS Rebel SL2 is the most advanced Canon of the bunch. It has the latest 24.2MP sensor and features Canon's brilliant Dual Pixel CMOS AF system for quick Live View focusing and shoots at a slightly faster 5fps. There's also a really useful vari-angle touchscreen. That said, it sticks with a similar 9-point AF system as the other two cameras.
Over at Nikon and both the D3400 and D3500 have 24.2MP sensors and can shoot at 5fps, and each is furnished with an 11-point AF system. 
With very similar headline specs, Nikon's D3500 actually features a newer design of sensor, even though they share same resolution. Handling has also been refined, with a larger handgrip for improved comfort. That's not forgetting the battery life, which has jumped from an already impressive 1,200 shots to 1,550 shots. 
Overall then, there's not a huge difference between the offerings from Canon and Nikon, but our pick would have to be the D3500. It's not perfect, but what it does do, it does very well and is incredibly easy to use for the first time user.
If you've got a little more to spend you've got perhaps even more choice. From Canon you've got the Canon EOS Rebel T5i (known as the EOS 700D outside the US), Canon EOS Rebel T6i (EOS 750D), Canon EOS Rebel T7i (EOS 800D) and the EOS 77D. 
From Nikon, there's not quite the same amount of models to pick from, but the Nikon D5300 and Nikon D5600 are still very strong contenders. 
Starting with the EOS Rebel T5i / EOS 700D, and it's starting to show its age now, with the 18MP sensor not a match for the latest 24MP sensors. It's pretty cheap, but we reckon it's worth trying to save up a little more and go for a newer camera if you can. 
The Nikon D5300 is starting to be harder to come by, but it has many advantages over the EOS Rebel T5i / EOS 700D. These include a 24.2MP sensor with no low-pass filter, a 39-point AF system, a larger 3.2in LCD screen (though there's no touchscreen functionality) and Wi-Fi built into the body. 
Collectively, this adds up to a much better proposition over the Canon, although we weren't so crazy about the D5300's AF speeds in live view when we reviewed the camera either. Otherwise, we were left with positive impressions and the price means it should be a very tempting proposition for many.
For a little more cash the Canon EOS Rebel T6i / 750D is also well worth a look. Handling is great, and we love the way the touchscreen controls have been implemented and overall, it's a very solid option.
All three of these DSLRs now though have been superseded by newer models, with the EOS Rebel T7i / EOS 800D, EOS 77D and D5600 the latest offerings from Canon and Nikon. 
The direct successor to the T6i / 750D, the EOS Rebel T7i / EOS 800D comes with a newer sensor (though the resolution remains the same at 24.2MP) that delivers better noise performance at higher ISOs and a greatly improved AF system. The EOS 77D is pretty much identical to the T7i / 800D as far as spec goes, but offers more body mounted controls – useful if you're a slightly more experienced user.
That leaves the Nikon D5600, which features a 24.2MP sensor that produces very detailed images, along with an articulating touchscreen, decent 39-point AF system and polished handling. These all combine to make the D5600 one of the most well-rounded entry-level DSLRs available, but it's probably just edged out by the EOS Rebel T7i / EOS 800D for overall performance.
If you're after something more advanced than each manufacturer's most basic offerings, you'll be looking towards models such as the Canon EOS 80D, Nikon D7200 and the new Nikon D7500.
All three occupy a similar kind of price bracket but there are differences. The Canon EOS 80D is a brilliant enthusiast DSLR with an articulating LCD touchscreen, a Dual Pixel CMOS AF system that provides continuous focus in stills and movies and an all-cross-type 45-point AF system. It's a system that works brilliantly, although the comprehensive AF settings may overwhelm some. Nevertheless, with 7fps burst shooting also on board it's very much recommended if you reckon you'll be shooting both action and videos. It also has a high quality 24.2MP sensor that is able to capture a good level of detail while keeping noise under control. A great enthusiast DSLR that packs a decent performance.
The D7500 might have replaced the D7200, but don't discount it. Packed with features, a decent performance and a excellent 51-point AF system, the D7200 is topped off with a cracking 24.2MP sensor to make it an ideal camera for enthusiasts – especially if you already own some Nikon lenses. It might be getting on a bit, but this makes it an ever better buy.
That leaves the new D7500. This latest addition to Nikon's DSLR line-up represents the biggest revamp we've seen in the D7xxx series since the D7000 replaced the D90. The combination of Nikon's 20.9MP sensor and EXPEED 5 image processing engine from the D500 (see below) in an even more compact and affordable body make it a very tempting proposition, especially if you shoot action.
Pro-spec APS-C DSLRs
Two further models are nestled between these and the full-frame offerings from each manufacturer. 
The Canon EOS 7D Mark II and more recently launched Nikon D500 each provide action photographers with a compelling proposition. While their sensors are more or less evenly matched at 20.2MP and 20.9MP respectively, the D500's sensor lacks an anti-aliasing filter, which should help it to capture slightly better detail. 
Up until the D500 was released, the EOS 7D Mark II's 65-point all-cross-type AF system sounded impressive, but Nikon's D500 has trounced this with a 153-point AF module with 99 cross-type points (although only 55 of these can be manually addressed by the user). 
Both cameras can shoot at 10fps, but the D500 promises up to 200 Raw frames versus the 31 Raw frames from the Canon, although both can capture JPEGs indefinitely at this rate. Together with 4K video recording, a broader ISO range and a larger, higher-resolution, touch-sensitive screen that can be tilted relative to the camera, the D500 outguns its rival in many areas.
The fact that it only offers 20MP may put some off, and all of its advantages very much come at a steep price. If price is no issue than the D500 is very much on top, with its strong spec sheet and excellent performance meaning that it should remain relatively future-proof, but there's no question that the EOS 7D Mark II is currently the better value deal. 
Most people looking at a DSLR at this level are after a one that's furnished with a full-frame sensor, and both manufacturers provide a range of solutions.
These are roughly spread across two price levels. At the lower end there's the Canon EOS 6D Mark II, Nikon D610 and Nikon D750. 
The EOS 6D Mark II is the newest out of the three options and pips its two Nikon rivals in the resolution stacks, with a 26.2MP full-frame sensor, compared to 24.3MP resolutions found in both the D610 and D750. That's not the whole story though as we found that the dynamic range performance of the Nikon's was that bit better. 
The EOS 6D Mark II's 45-point AF system is a little too weighted to the centre of the frame for our liking, but the vari-angle touchscreen with Canon's brilliant Dual Pixel CMOS AF system makes up for it. 
The D610 by contrast is getting on a bit, but that does make it the cheapest full-frame camera here. It's still well-spec'd too, with a solid 39-point AF system with 11 cross-type points, which is great for all-round use.  
So what about the D750? Like the D610, it might be showing it's age a little, but this is still a very well-rounded enthusiast full-frame DSLR. You get a tilting LCD screen with a decent resolution (no touchscreen control though), a refined 51-point AF system with 15 cross-type points, while image quality is also measurably better than the D610's. In fact, we didn't have too many gripes with it when we came to review it. Particularly if low-light shooting or video is key, the D750 is our pick of the bunch.
High-end options
Canon and Nikon each have a number of options at the £2000/$2500+ end of the full-frame scale, but the main four are the Canon EOS 5D Mark IV, Canon EOS 5DS (and its EOS 5DS R sibling), Nikon D810 and Nikon D850. 
Let's start with the 50MP EOS 5DS – this has held the crown for the high resolution DSLR for a while now, but all those pixels means it's not incredibly versatile – it's great for landscape photographers and those that work in a studio, but a little restrictive elsewhere.
The 30.4MP EOS 5D Mark IV still packs in a decent amount of pixels, and is a much more versatile proposition, with a great 61-point AF system, excellent handling and a decent 7fps burst shooting.
The EOS 5D Mark IV was until recently, our pick of the best DSLRs out there, but the arrival of Nikon's 45.4MP D850 has eclipsed it. In a nutshell, this is high resolution camera that packs in a high performance. The sensor delivers excellent results, while the 153-point AF system and 7fps burst shooting mean it's at home shooting pretty much any subject. The best DSLR you can buy right now. 
That just leaves the 36.3MP D810 – it might have been replaced by the D850, but it's still a great DSLR and you should be able to hunt it down at a great price now as well.     
Choosing between Canon and Nikon doesn't restrict you to DSLRs as the two companies also have mirrorless options in their current lineups. Admittedly, both were a little late to the party, and Nikon recently retired its small 1 series of mirrorless cameras, so it's Canon that currently has the widest selection here. 
Most of these reside in its EOS M series, which at the the time of writing comprises four separate options: the EOS M100, EOS M6, EOS M5 and EOS M50.
The baby of the family is the EOS M100, a tiny, wirelessly connected camera that has a flip-up screen and Canon's video-friendly Dual Pixel CMOS AF system to recommend it. This makes it particularly suitable for vloggers and anyone wanting a more serious camera that's still suitable for capturing selfies, although it lacks a microphone port for more serious audio recording and also doesn't have a viewfinder. 
The next model along, the EOS M6, also lacks a viewfinder, although the the presence of a microphone port makes it more appealing to video users. Its slightly higher asking price is reflected in a more serious assortment of controls: a beefy grip that provides superior handling, together with a dedicated exposure compensation dial and a hot shoe that accepts an optional viewfinder) are just the tip of its highlights. The lack of a silent shooting option, however, is somewhat odd for a mirrorless camera, and its build quality could be better too.
The EOS M5 is much the same as the EOS M6 in its controls and intentions, although the fact that it's fitted with a centrally positioned electronic viewfinder makes it more DSLR-like in style and operation. Its LCD still flips around to face the front, but does so at the bottom of the camera, which is decidedly less ideal for video use. Still, 7.4fps burst shooting and the same Dual Pixel CMOS AF option as its siblings shows it to be primed for capturing action as well as static subjects.
None of these models offer 4K video recording, although the fourth option, the EOS M50 / EOS Kiss M does. Sadly, Canon's Dual Pixel AF system does not work when recording 4K videos, but the fact that that the camera offers a more advanced DIGIC 8 processing engine and a newer and more efficient Raw format gives it a few advantages over its cheaper siblings. It's also very competitively priced right now, and boasts a 2.36million dot electronic viewfinder and a Vari-angle touchscreen, although its lacklustre build quality matches that of the EOS M6. Furthermore, like the other EOS M options here, it suffers from only being compatible with a few native lenses right now.
High-end options
Canon's EOS M-series models certainly have their charms, but the real excitement in Canon and Nikon's mirrorless systems is at the enthusiast/professional end of the scale. 
Both companies have announced fresh mirrorless systems in recent months, and all three cameras released so far – namely Canon's EOS R and Nikon's Z6 and Z7 – have been blessed with full-frame sensors.
The EOS R is Canon's first full-frame mirrorless camera, with a spec sheet that places it somewhere between the enthusiast-level EOS 6D Mark II and pro-grade EOS 5D Mark IV DSLRs. On top of a new 30.3MP full-frame sensor and 4K video capabilities, it benefits from a clear 3.69million-dot EVF and a responsive 3.2in touchscreen that flips out to face the front, together with a fast AF system that works brilliantly across stills and video. 
It's also compatible with a new line of lenses – four of which have been released so far and many promised to land shortly – but Canon has ensured that existing EOS users are catered for via a choice of three adapters, each allowing for EF lenses to be used on the newer system without hassle. We're not sure about a couple of design decisions Canon has made for he model overall, but handling is great and build quality exemplary. Image quality also looks to be very promising from what we've seen so far.  
Nikon kicked off its own Z series just ahead of Canon with two full-frame models, the Z6 and Z7. The two cameras have pretty much everything in common, save for a handful of key differences.
Thanks to its 24MP sensor, 12fps burst shooting option, a 273-point AF system and a significantly cheaper price tag, the Z6 is a camera with wide appeal. With a 45.7MP sensor at its heart, the Z7 is a better match for anyone involved in capturing more sedate, resolution-gobbling applications, but its more densely packed 493-point AF system and a very respectable 9fps burst mode mean you shouldn't necessarily rule it out if you tend to shoot moving subjects with any regularity.
The two cameras sport a new lens mount and three native lenses have been released already, with many more planned over the next few years. And, as with the EOS R, you can mount decades' worth of existing lenses on the body through the optional adaptor. 
We love the way the Z7 handles and both image and video quality is very impressive. The use of XQD memory cards has proved to be controversial, however, and battery life isn't quite as strong as that of certain competitors, notable Sony's A7 series of full-frame cameras.